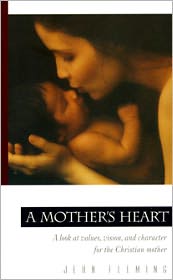 My dear friend, Julia, sent me this book when she found out I was pregnant. Plus, my mother-in-law also said she'd read it a few times when she had a household of little boys. So I knew it was going to be good!
Jean Fleming encourages young mothers to teach their children godliness through love, prayer, example, discipline and cREaTIviTy!
One of the best things I got out of this book was how to prayer for Julianna. I pray that she will be a member of God's Kingdom, a credit to the Kingdom and am ambassador of the Kingdom. Jean Fleming really encourages me to teach Julianna at every opportunity, using my creativity and skills. I'm so excited about teaching Julianna about Jesus!
A GREAT companion book in this same genre is Edith Schaeffer's
The Hidden Art of Homemaking.
Mrs. Schaeffer's ideas are so creative and practical, you'll love it!